Fred Stavins did not hesitate to give up. At 72, he still enjoys working with the people around him and still has the energy to take on the position of City of Champaign Solicitor, a position he has held since 1981.
"I love what I do," Stavins said.
But the South Side Chicago native thought it was time to move on. He has set May 20 as his retirement date.
"I've been to over 2,000 city council meetings," the likeable Stavins said. "A lot of these meetings are at night and I would be away from my family. My wife and two sons have been very supportive of me in my career.
Stavins is the kind of guy who could have chosen more than one career. He was an educator for a few years. He even considered newspaper work for a while. But he chose to be a lawyer instead – and he seems to have enjoyed that. A lot.
He kept his sanity and he kept his sense of humor.
"It was close," Stavins said. "I considered journalism when magazines and newspapers were a viable form of employment. I thought about it a lot. I've always been kind of a journalist. When I was 9 or 10, I was a newspaper delivery boy. My father read two or three newspapers every evening. When we went on vacation, one of his favorite activities was to buy out-of-town newspapers.
The high school graduate Brother Rice chose education instead. At least at the start. He graduated from Notre Dame and taught middle school English for two years before entering law school at the University of Illinois. There he also managed a rooming house for three years and after graduation became an assistant company attorney for the city of Joliet before returning to Champaign to become a city attorney – a position he has held for just over four decades.
There are a number of people who are happy that Stavins accepted the position of Champaign City Attorney. One of his fans is Mayor Deb Feinen, who said he is a blessing to the city but also to many lawyers, like her, who have turned to Stavins for advice and knowledge on certain facets. municipal law.
"Fred is always a fun person to defend," Feinen said. "He's someone who I think likes the nuances of the law. He likes to talk about both sides of a problem and think about what the answer might be.
Stavins said he appreciates the city council/management form of government that Champaign employs.
"In many ways it's less partisan/political," he said. "There is no partisan back and forth."
Stavins called the attorneys, paralegals, and paralegals he worked with "the best municipal legal group in the state of Illinois."
"It's really a team of people who are focused on providing advice in a number of areas," Stavins said. "I want to emphasize that many of the (achievements) are just about me, being part of a larger team and working with other lawyers in the office."
He said that in some ways a form of municipal government can be compared to a corporation in its management structure.
"You have to look at the city like you look at a business. We have a general manager who is the city manager, a board of directors who is the city council, a chairman of the board of directors who is the mayor. There are various elements of service delivery – police, fire, public works, library, 911 dispatchers, neighborhood service officers, planning officers, and then finance and HR.
Feinen said Stavins was as comfortable negotiating a development deal as he was discussing an easement issue or a sewage backup issue.
The city also has a Crown Prosecution Service that has been employed over the years for ordinance violations.
"A system we adopted in the mid-1980s … allowed people to pay a minimum fine at the town hall or in the mail before it reached court, and there is no criminal record."
He said many other cities have followed Champaign's lead and adopted this system.
Champaign recoded its city code under Stavins' watch.
Early in his career, solid waste was a major topic in the community.
"There were an incredible number of problems in the late 80s and 90s. A solid waste association was formed among the city government agencies," Stavins said. "We have drafted a series of boundaries of Boneyard Creek. We spent several years in this process trying to bring all the communities together to make Boneyard Creek a positive amenity. It was once a sewage transport artery through the city."
Stavins was a founding member of the Illinois Local Government Lawyers Association, of which he served as president and for which he received the Lifetime Achievement Award.
He is also a longtime member of the International Municipal Lawyers Association (which won the Epps Award) and the Illinois Municipal League Home Rule Attorneys Committee.
Once Stavins becomes a man free from the demands of his job, he said he plans to do "some of the things that I haven't had time to do," like traveling more with his wife, Rosemary Garhart, find friends and organize his long photo the collection.
Stavins and Garhart have two sons, Freddie and Robert. He's probably attended as many of his sons' soccer and tennis games as he's had city council meetings over the years. Family and volunteer work at his church, St. Patrick's in Urbana, occupied much of his free time.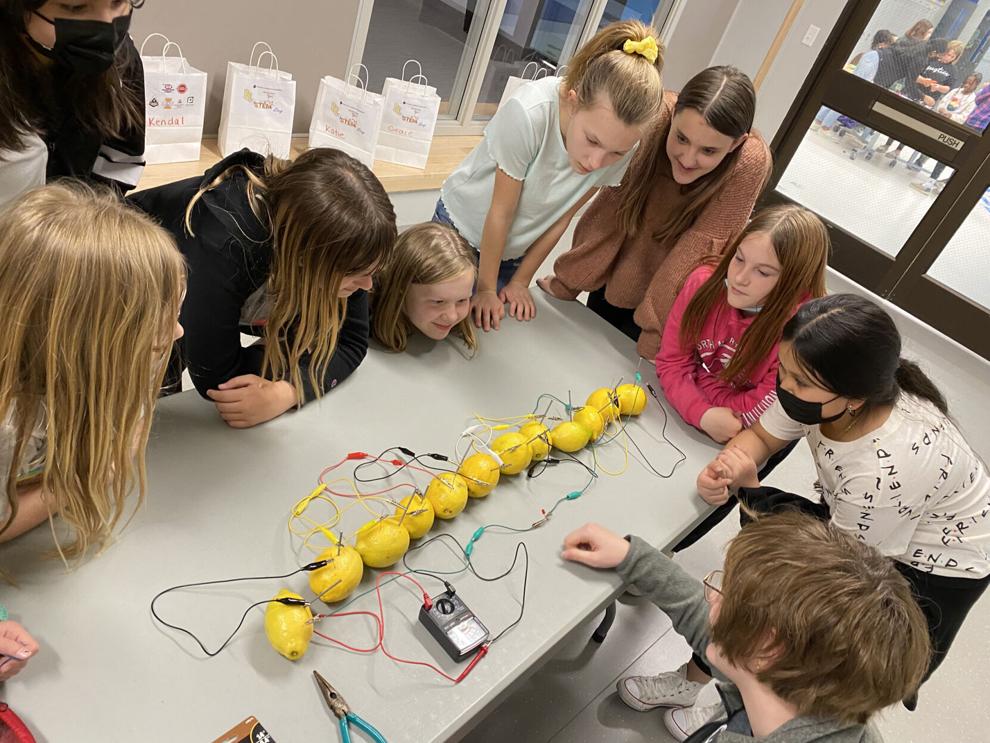 PBL Freshman Hosts Girls STEM Day
Elizabeth Megson, a freshman at Paxton-Buckley-Loda High School who was named an engineering ambassador earlier this year by the National Academy of Engineering, hosted a STEM day for girls in fourth and fifth grades at the Clara Peterson Elementary School in Paxton. .
Female Engineer Ambassadors are mentored by female engineers with the goal of implementing projects that promote engineering to underrepresented groups in the field, including women.
Megson worked with regional colleges that offered an array of science-related activities for STEM Day, including the University of Illinois, Parkland College, Purdue University and Governors State University.
She came up with an activity that involved powering a light bulb with lemons. With a small grant from the NAD, she also solicited hardware donations from Paxton IGA and Paxton Hardware and Rental.
Megson said setting up the program was a lot of work but worth it.
"I just want to emphasize that, at its core, engineering is really about thinking, creating and doing, not just reading and writing," Megson said.
Leah Courtney of the U of I Society of Women Engineers Outreach Committee helped plan the event and came up with a robotic hand activity.
Representatives from Parkland College brought a circuit baton and presented the Staerkel Planetarium and hands-on summer science classes for elementary school children.
Lauren and Lindsey Rademacher, STEM coaches at Governors State University, proposed a bioengineering activity using strawberry DNA.
Luchinski joins Phi Kappa Phi
Butler University student Hannah Luchinski of Champaign was recently inducted into the Phi Kappa Phi Honor Society, the nation's oldest and most selective collegiate honor society for all academic disciplines.
They are among approximately 25,000 students, faculty, professional staff and alumni to be initiated into Phi Kappa Phi each year. Membership is by invitation only and requires the nomination and approval of a Chapter.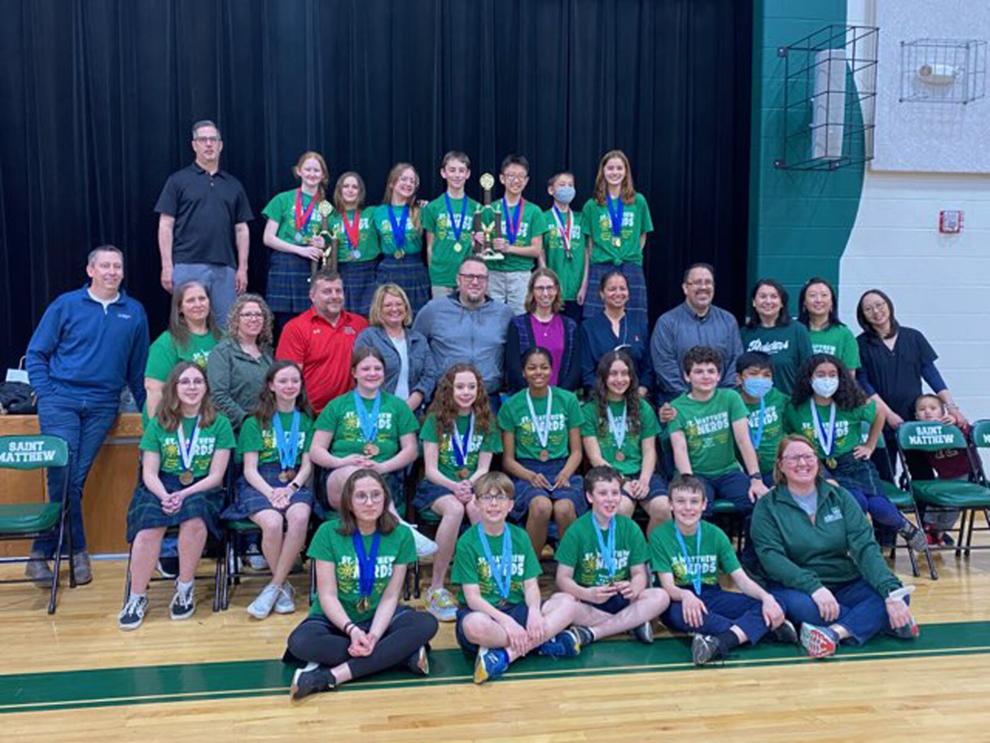 Champaign St. Matthew wins state title
St. Matthew's Catholic School in Champaign won first place in the State Division 1A at the Science Olympiad tournament on April 23.
The team qualified to compete statewide by winning the regional competition at Parkland College on March 12.
All events are virtual this year.
The team is coached by parent volunteers and head coaches Jean Drasgow and Karleen McNeal.
Announcement of Danville school retirees
The Danville School District has released a list of staff who will be retiring at the end of the 2021-22 school year. They will be honored at a May 11 council retirement dinner at the Possum Trot Supper Club.
They include Danville High employees Kimberly Burch, Susan Kedas, Donna Bennett and Monica Campbell; Mark Denman Elementary, Mary Jo Heeren, Debora Leaver and Debbie Plush; Elemental Liberty, Julie Legg; South View Upper Elementary, Sherry Carpenter; North Ridge Middle School, Shirley God and Joy Fox; Jackson Building, Kathryn Feed; Edison Elementary School, Barbara Hall; Garfield Elementary, Derric Hightower; Fields Administrative Services Center, Dianna Kirk and Connie Kittell; and Kenneth D. Bailey Academy, Debra Strader.
Heino and Anderson top golf tournament
Cameron Heino and Jacob Anderson, both graduates of Mahomet-Seymour High School in 2006, won the biggest trophy at the 56-team Ben Sieg season-opening golf tournament last weekend at the golf course Lake of the Woods to Muhammad.
The tournament took place over two days, with Sunday's action cut short for some flights due to rain. Golfers were placed in five ends after their first round.
Flight winners:
First Flight – Bob Bushnell and Mike Rorem
Second flight – Skyler Cargo and Ben McElhoe
Third Flight – Gus Potts and Guy Jamison
Fourth Flight – Wally Straub and Owen Straub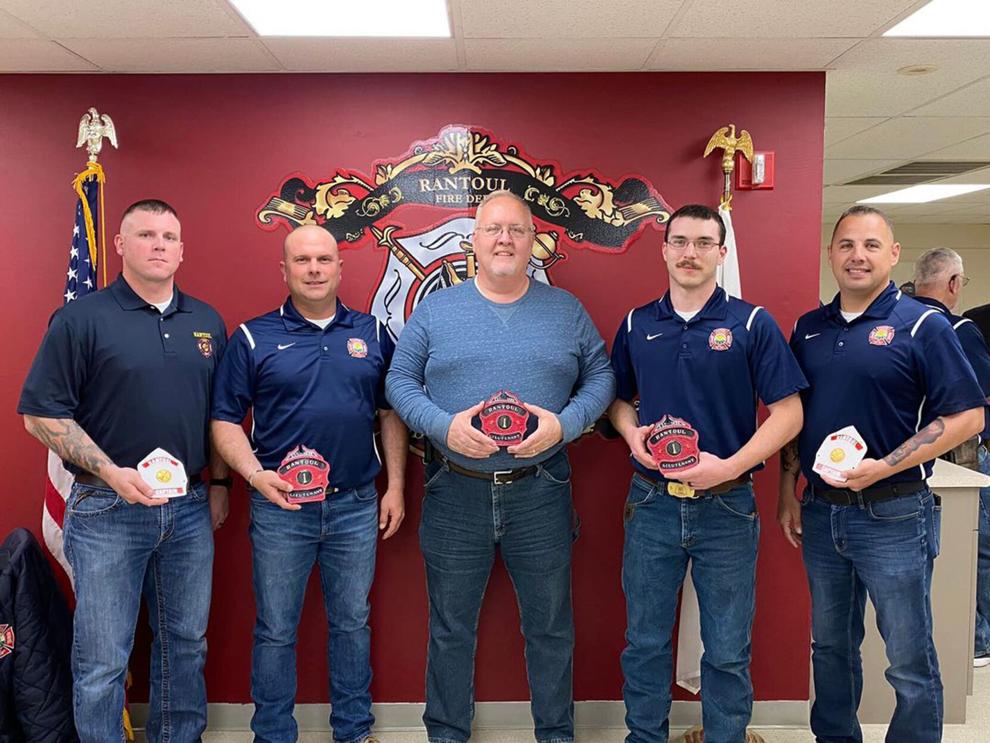 Rantoul celebrates the promotions of firefighters
The Rantoul firefighters met this week and announced the promotions of five people.
They are Jeremy Larson and Geoff Wahl at captain and Gary Wilson, Derek Shreves and Jason McMorris at lieutenant.
Kasten wins Dean's Award
Sadie Kasten, a member of Colgate University's Class of 2022, won the Fall 2021 Dean's Award of Distinction.
A geology graduate from Champaign, Kasten is a graduate of Champaign Central High School.
Students who receive a cumulative grade point average of 3.6 or higher while taking at least three courses during the fall semester win the award.