In January 2022, when I "retired" at age 65 from my job, I wasn't quite sure how I was going to spend my time. But I knew that I wanted to, among other things, challenge myself, use the expertise I had accumulated over four decades of career and mentorship. I recently found a way to do all three and enthusiastically encourage others who aren't retiring to try the same.
I did so by becoming Director of Digital Media Strategies and Adjunct Professor at NYU's famed Summer Publishing Institute (SPI), a 44-year intensive program for 89 students primarily for recent grads and rising seniors.
The many parts of this part-time job
The job involved lining up reputable digital media professionals at major outlets, from Vanity Fair and Cosmopolitan, to NPR and People and at giants such as Hearst, Dotdash Meredith and Condé Nast to appear on billboards, organize workshops, giving speeches and presenting PowerPoints every weekday from 9am. in the morning until about 5 p.m. My boss, SPI Director Andrea Chambers, produced the sessions with HR professionals. (I'll tell you what these digital and HR experts said, but their appearances were confidential.)
Managing the digital media portion of SPI also meant moderating certain sessions; manage presentations of student projects to judges; give students daily doses of the latest news and trends in the turbulent world of digital publishing; offering advice on how to apply for jobs in digital media and sharing ideas on success.
Additionally, I should rate and comment on the three-part editing tests we would give students to demonstrate their ability to write stories, present ideas, and master the vital skill of creating titles that would pop up if people were to search. their topic – known as search engine optimization or SEO.
Lily: 10 things to discuss with your financial advisor
Overcome nerves
An admission: I wasn't sure I could do it because I had never taught or managed a program like SPI. But I dived.
It started with a prep workload from my home in New Jersey in April, May and early June. During that time, I would put all the pieces of the puzzle together, run Doodle polls to nail Zoom prep calls with the speakers, and then hold those calls. For this part, I had tremendous help from SPI's full-time Chambers and assistant director, Paul Amodeo.
From June 13 to June 27, I acted as a full-time leader for the Digital Media Program at NYU's downtown location near the World Trade Center. I took a 6:25 a.m. bus to New York every day and returned home at night around 7:30 a.m. (is this retirement? I sometimes thought).
Once I finished my part of the program, the students started the two weeks of the book publishing part of SPI. It ends on July 12 when I return for the "diploma".
Lily: Can a robot help you care for your aging parent?
Mask
Although SPI was entirely virtual last summer due to the pandemic, the 2022 sessions were almost entirely in-person, which meant students had to wear masks so I unfortunately couldn't see their faces. I wore a mask too, except on stage with a speaker, when we kept distance from each other and students.
The only virtual sessions this year were "tours" of People, Yahoo, Twitter and Narratively, whose participating New York-area employees were working remotely, as well as tours of digital media brands elsewhere (Texas Monthly and Virginia Quarterly Review) and a few appearances from pros who couldn't attend in person because they had COVID-19 or who were filling in because a scheduled speaker had a last-minute labor dispute.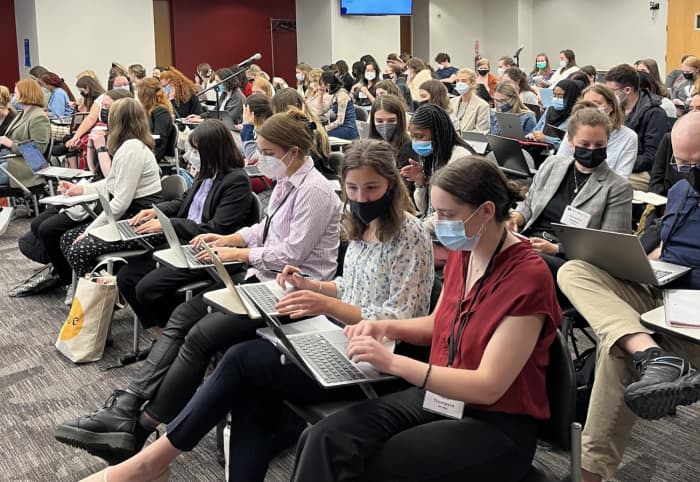 How Being an Older Worker Paid
I think being an older worker has helped the NYU program work well, demonstrating the usefulness of older workers, including non-retirees.
My decades in the media industry allowed me to harness the contacts I had made over the years and bring them to share their intelligence with students. (Special thanks to my wife and former People magazine editor, Liz Sporkin, who also suggested the names of some experts I called on.)
I might also talk to students about the importance of updating your skills and pivoting as needed. In my case, I explained, I started out in print journalism (19 years at Money magazine as a fact checker, writer, Washington correspondent, editor and editor, followed by a stint of 10 years at Good Housekeeping as Director of Special Projects, Money Editor and Site Manager). Then I moved on to digital media (with stops at CBS MoneyWatch, Yahoo, and Next Avenue).
Plus, being in the game for over 40 years, I could help students improve their presentations of final projects – explaining "What is an editorial calendar?" (planned features and events related to different times of the year) ways to reinforce their brand messaging to overcome potential judging concerns.
Thoughts on accepting the challenge
I'm so glad I applied for the SPI job — a job I wouldn't have had time for if I still had a full-time job. I'm also thrilled with how the experience went; I was moved when students wrote kind words about me in LinkedIn posts (they learned how to use LinkedIn well during the digital media session).
If you're not retired, or hope to be soon, I hope you'll take the opportunity to do something like me. Don't worry if you've never done it before or aren't sure if you can. Believe in yourself.