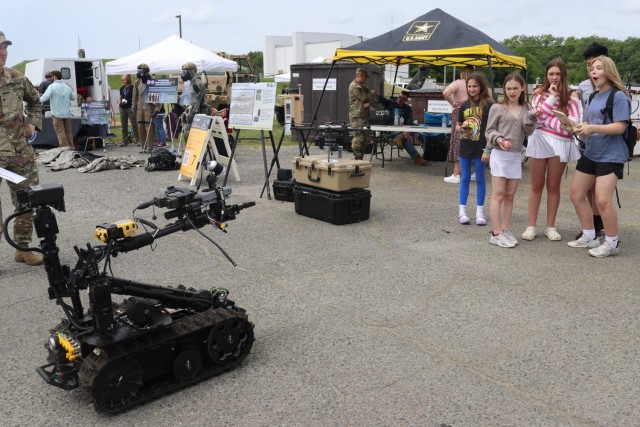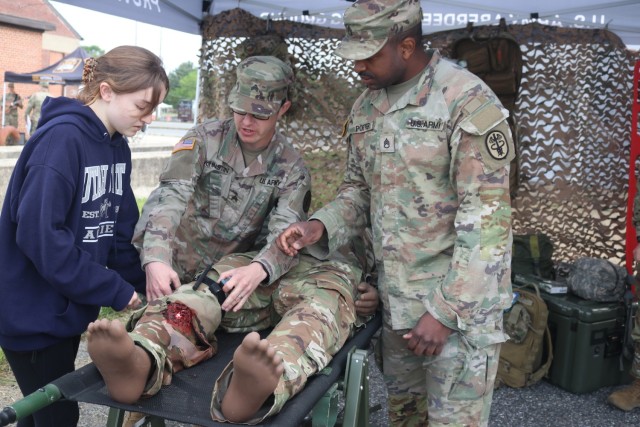 ABERDEEN PROVING GROUND, Md. — More than 550 students from Harford County Public School learned about career opportunities in the military from local soldiers and civilians and saw the latest military technology and innovation during the first day of APG's future force on May 19, 2023.
The event, hosted by the U.S. Army Communications and Electronics Command, was held near the main front of the U.S. Army's Aberdeen Proving Grounds in conjunction with live-fire demonstrations morning and afternoon for APG employees and their families.
Natalie Holloway, director of college innovation for Harford County Public Schools, said the students were excited to have the opportunity to participate in a military installation and see hands-on demonstrations.
Holloway predicted that many students would be drawn to robotics demonstrations because most students had never seen robots "at this level".
"I am convinced that most of the children present today did not come here [APG] and have no idea what it looks like," she added.
Holloway said she hopes APG Future Force Day will motivate students and introduce them to many career options in the military.
Holloway thanked the APG staff who made the event possible.
"We are very pleased with the partnership between Harford County Public Schools and Aberdeen Proving Ground," she said.
CECOM Public Affairs Specialist Rebecca Nappi said Future Force Day was designed to show local students that careers in the military can directly match their own interests and passions.
"With over 200 types of careers in the military, we wanted to give students an insight into some of the more unique career fields offered by the military, including cooking, music, cyber, medical, operations simulation, biological/chemical defense and infantry," she said. "From administering a tourniquet on a bleeding simulation dummy to disarming a grenade with an EOD [explosion ordnance disposal] robot to try his hand at cooking delicious hors d'oeuvres as an army chef, students got to see just how endless the possibilities really are within the army.
Endless Possibilities
During each station, students in grades seven through ten were encouraged to ask soldiers and civilians questions about their work. Public affairs officer Steven Stover of the 780th Military Intelligence Brigade told the students that the military was a "total team sport." He served in the military for over 20 years as a private and is now serving as a civilian.
"The reason I serve is because it's something bigger than me," he told the students. "I protect my country from cybercriminals."
Capt. Geno Nappi, with the 780th MI BDE and a graduate of Havre de Grace High School, said the military paid for his tuition.
"Enjoy everything you can; there are a lot of opportunities there," he said.
Avery Merkley, a 10th grade student at Edgewood High School, said she learned how to administer a tourniquet on a Soldiers with Kirk US Army Health Clinic training dummy.
"My dad just retired from the military and he said I totally should. [come to the event]," she said. "I was excited, I'm thinking about joining the military, but I'm not sure what I want to do, so I'm going to learn more today."
Computer engineer Brian Reed, with ATC, showed students how to operate a small iRobot 310 unmanned ground vehicle using a video game controller. The SUGV is intended for soldiers, combat engineers, and mobile explosive ordnance disposal technicians to gather data for situational awareness under critical conditions. Reed challenged the students to use the robot to carry a ball and drop it into a tight ring.
"This event shows students the possibilities in the STEM field," he said. "I hope it will get them excited with this hands-on experience."
Staff Sgt. Matthew Miczynski, an enlisted assistant and culinary specialist at the Joint Culinary Center of Excellence, demonstrated how to make bacon, lettuce and tomato bruschetta for the students. Miczynski told students he appreciates the precision that goes into his work and the general officers on duty. He recently changed careers, he said, as he was originally an infantryman.
real fire
The morning and afternoon sessions of Future Force ended with a 20-minute live fire show. This demonstration highlighted "some of the workhorses of the US Army's combat brigades," said narrator Wayne Strine, division chief at ATC.
APG Commander-in-Chief Major General Robert Edmonson II welcomed the audience and encouraged them to share their experiences by taking photos and videos for social media.
During live fire, vehicles featured included the Joint Light Tactical Vehicle equipped with a Mk19 40mm Grenade Launcher, a Stryker Infantry Carrier Vehicle with a .50 caliber machine gun, and a Bradley Fighting Vehicle with its main gun , the M242 Bushmaster automatic cannon.
The last military vehicle presented, the M1A2 Abrams main battle tank, was equipped with a 120mm smoothbore gun. This demonstration provided the loudest boom of the event and the narrator exclaimed that he liked the sound.
"The primary mission of the Abrams is direct combat, tank-on-tank combat, and Abrams tanks are very, very good at that," Strine said. "When the Abrams go to fight, it's not going to be a fair fight, and it's not fair how we want it to be."
The live fires ended with a combined arms exercise, where the systems engaged all targets. Special guests were selected to start the live-fire finale saying, "gunners, fire your guns".
Colonel Joshua Trimble, Chief of Staff of the US Army Communications and Electronics Command, was selected to start the CEA as he is retiring after 26 years of service in the morning session. His family has also been recognized for their unwavering support throughout his career.
Strine led the audience in a round of applause to thank Trimble and his family "for their service and commitment to preserving our freedom."
During the CEA afternoon, Sherrie Harris from the Aberdeen area was selected to serve as an APG civilian for 50 years. Her husband, Donald, is a retired ATC employee.
"Sherrie is the perfect example of what you can do in a STEM career," Strine told students.
Harris described the experience as "really fun and meaningful." Harris, a data coordinator, described her job as her "calling". She has been an ATC employee since 1985.
ATC Commander Colonel Timothy Matthews said the demonstration only featured a small snippet of what they do every day. He said that students are the future and will be at the forefront of tomorrow's technologies.
"Many of our employees here have a STEM background, so if you enjoyed what you saw here today, remember us when you're done, when you need a job," he said. -he declares. "We are here for you."
Brandon Armiger, an eighth grade student at North Harford Middle School, described Future Force Day as "pretty cool". He said he found the day enjoyable and wanted to continue exploring military career opportunities.
"My brother was in the navy and I plan to join the army when I get older," he said.
For more photos, visit https://www.flickr.com/photos/usagapg/albums/72177720308507140.